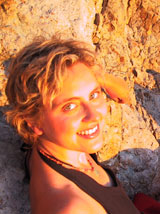 Brook K. Gauthier, founder of Chrysalis Film Productions, has a professional background in research and communications. Chrysalis Film Productions provides a wide range of audio-visual services, all undertaken with the quality and attention to detail our clients, both those in the business of art and in the art of business, have come to expect.
Our services include videography, editing, and pre/post production of lectures, educational and instructional videos, corporate and cultural events, music videos for performers and composers, collaborative projects with performance artists, and documentation for portfolios and marketing purposes.
As an interdisciplinary artist, Gauthier works in the realm of film as producer, writer, director, and cinematographer. She has created both video installation sculpture and short film. Gauthier won awards as a student of both Art and Mythology. She continues to enjoy bridging the gap between mythic narrative and the humor and grit of the every day. Her work is largely defined by the exploration of liminal space.
She has served as guest lecturer at the Willamette University Art Department, worked at the Alliance of Artists' Communities to produce the Future of Creativity Symposium, and as a research consultant for Montalvo, an acclaimed arts organization in the Bay Area. Gauthier's film Thresheld was selected for inclusion in the 2008 WestWave Dance Festival in San Francisco and screened at the Yerba Buena Center for the Arts.  Thresheld also screened at the 2009 Tucson Film & Music Festival, at Tucson's First Saturday (2011) and The Screening Room (2010).
Brook currently is working on the film project Love Tales from the Camino.